THE QUEENS
THE GIRLS WHO RUN THE HOUSE!!
All of Candi Dasa's beautiful females have run of the house and at any given time can be found lounging anywhere they please. I can't walk past a cat without petting her or offering a little kiss on the top of her head! All our girls are friendly and affectionate, wanting only to be at our feet or in our laps. They all get along great and love us as well as each other, which makes for a peaceful kitty household. They often "mother" each others kittens. I try to breed them together so they raise their babies as a "pride" all together. I found this method produces solid temperments and great personalities!
MARACAI PERSEPHONE OF CANDI DASA
Persephone...aka..Percy is a Blue and White Bi- Color Oriental Shorthair. Percy is of Russian bloodlines. She has the attitude! She is a curious cat that is always in my business. She follows me everywhere I go. She likes everyone to know she is the BOSS! She is playful and bold. She is very vocal and talks and coos with her kittens all day! She is an excellent mother and is very protective of her brood. She plays with them and watches over them all day. She takes her job as a mama seriously! Her kittens are vocal, curious and bold!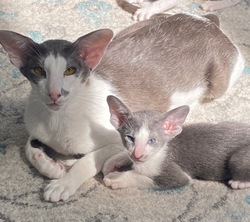 CFA MARACAI SUGAR OF CANDI DASA
Sugar is an absolute gem, carries herself with pride and majesty. She follows me everywhere she is a sweet and gentle soul.

She is a Seal Point Siamese with gorgeous dark blue eyes. She from Maracai cattery bred by Vicki Gill, I thank her for her help, support and friendship.

She is playful and curious, but quiet and stoic. Sugar has produced her first litter of gorgeous babies!! She is a protective mother and very loving to her kittens.